Historique
History
Pol-Armand Nicaise (1913-2001) ouvre sa librairie au 145 boulevard Saint-Germain en 1943, fondée sous l'Occupation dans les locaux vides d'un ancien « Café restaurant des Chauffeurs », dont les propriétaires morts accidentellement en 1938 laissaient des enfants mineurs et une succession des plus compliquées. (Pol-Armand Nicaise, lettre du 18 novembre 1996)
Pol-Armand Nicaise (1913-2001) opened his bookshop at 145 Boulevard Saint-Germain in 1943, founded during the occupation in the empty premises of a former « roadside cafe », whose owners died accidentally in 1938 left minor children and a succession more complicated. (Pol-Armand Nicaise , November 18th 1996 introduction to the catalog No. 1 by Jean Etienne Huret )
En 1949, Pol-Armand Nicaise publie son premier catalogue présentant  des éditions originales de littérature moderne et contemporaine ainsi que quelques illustrés. Son catalogue n° 10 « Cubisme, Futurisme, Dada, Surréalisme » publié en 1960 fait date, et la librairie devient au fil des années l'une des plus réputées sur le sujet.
In 1949, Pol-Armand Nicaise published his first catalog with original editions of modern and contemporary literature and some illustrated books. Its catalog No. 10 « Cubism, Futurism, Dada, Surrealism » published in 1960 is a milestone, and the bookshop became over the years one of the most famous on the subject.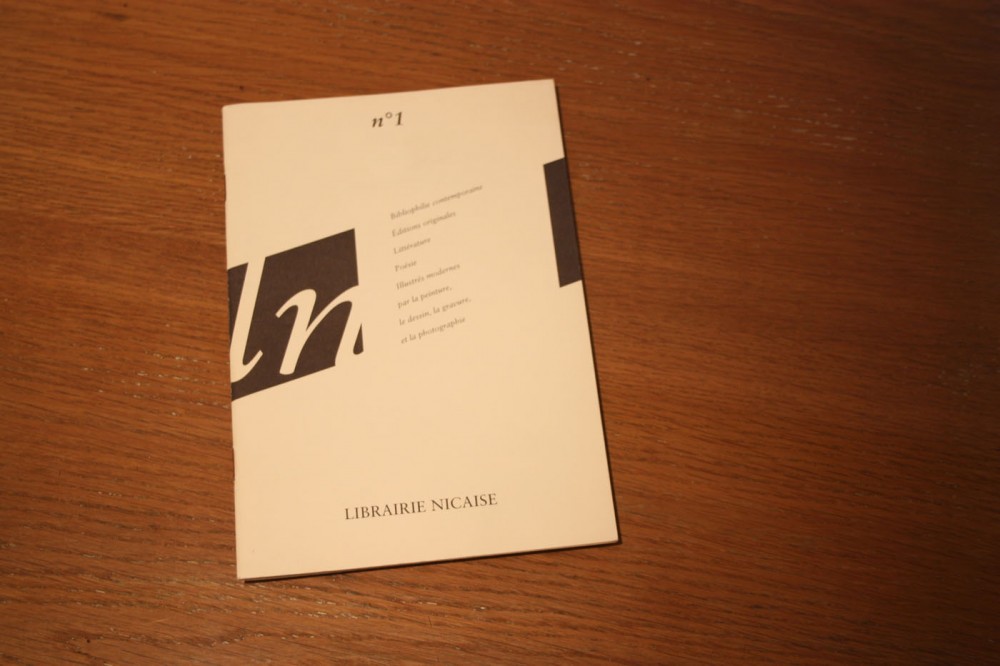 Après 53 ans d'activité, Po-Armand Nicaise vend sa librairie à Jean Etienne Huret en 1996. Le nouveau propriétaire aménage le 1er étage en lieu d'exposition et organise de nombreuses rencontres, vernissages, signatures autour de la création bibliophilique contemporaine. Jean Etienne Huret a publié également des catalogues de livres précieux du 20e siècle jusqu'en 2006 lorsqu'il cède lui-même l'activité.
After 53 years of operation, Pol-Arman Nicaise sold his bookshop to Jean Etienne Huret in 1996. The new owner is developing the first floor into an exhibition place and organizes many meetings, openings, signatures on contemporary bibliophily publishing. Jean Etienne Huret also issued valuable books catalogs of the 20th century until 2006 when he sells himself the shop .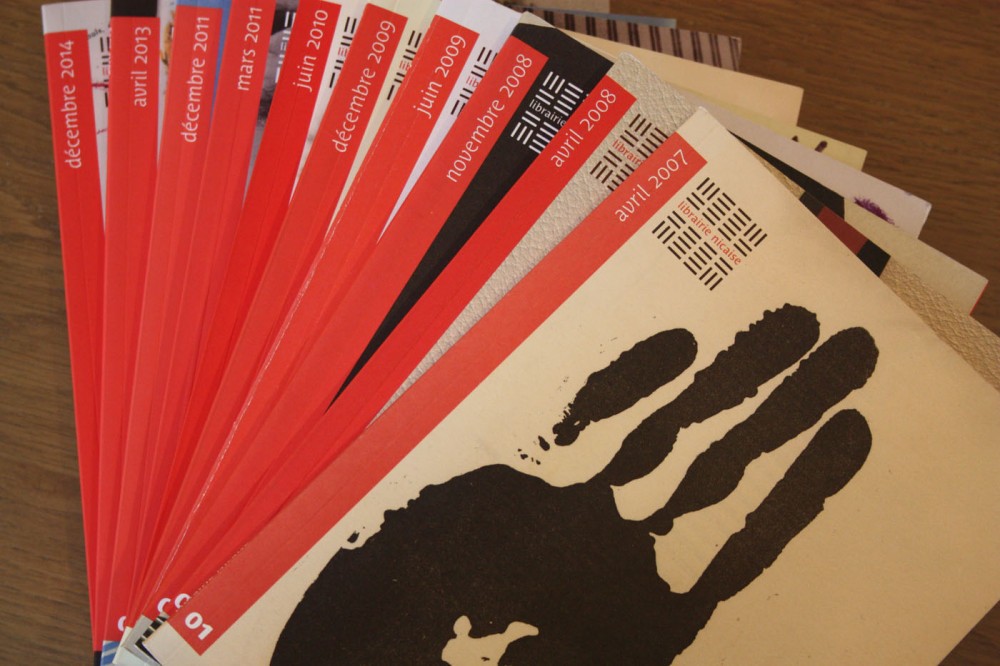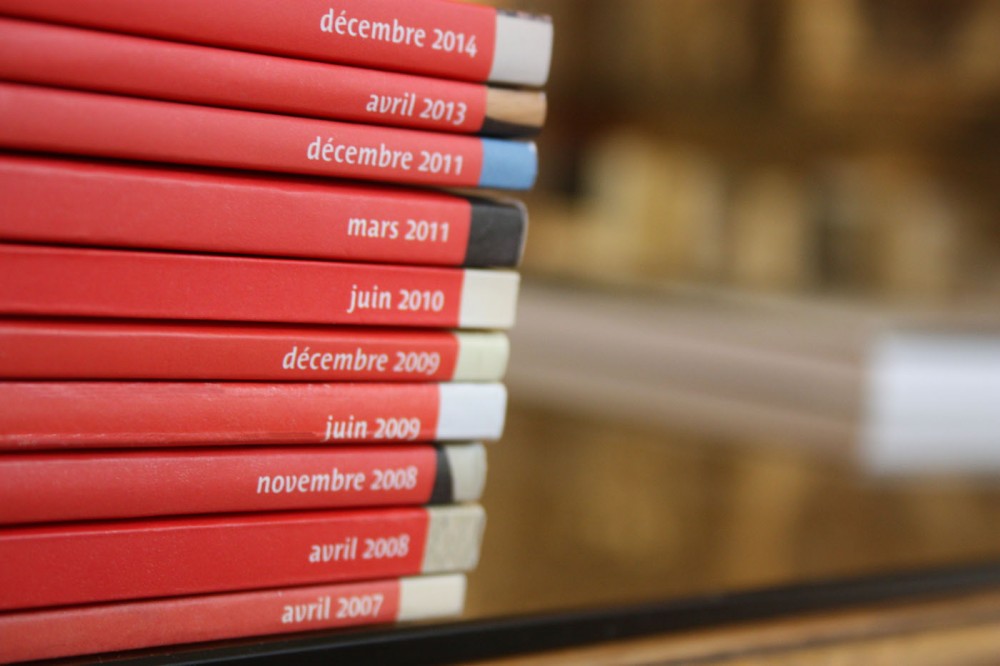 Depuis 2007, c'est Pierre Walusinski qui dirige Nicaise. Il transforme les lieux afin de présenter à la fois les livres d'artistes et leur pendant pictural sur cimaise. Il publie des catalogues abondamment illustrés qui se distinguent par une présentation et une typographie soignée. Sur son blog des humanoïdes associés, l'éditeur et producteur Jean-Pierre Dionnet annonce d'ailleurs que «les meilleures revues littéraires sont parfois des catalogues de libraires(…). Nicaise fait de merveilleux catalogues, admirablement mis en pages, qui valent bien des livres tant il y a de choses évoquées, du pointu comme de l'évident mais c'est le pointu qui m'intéresse.»
Since 2007, this is Pierre Walusinski who runs the gallery and bookshop Nicaise. Trained in printmaking and typography at the Ecole Estienne and at the Cabinet des poinçons de l'Imprimerie nationale de France, he transforms the place to present both artists' books and painting. He publish extensively illustrated catalogs that are distinguished by design and elegant typography. The french publisher and producer Jean-Pierre Dionnet also announced about them , « the best literary periodicals are sometimes booksellers catalogs . »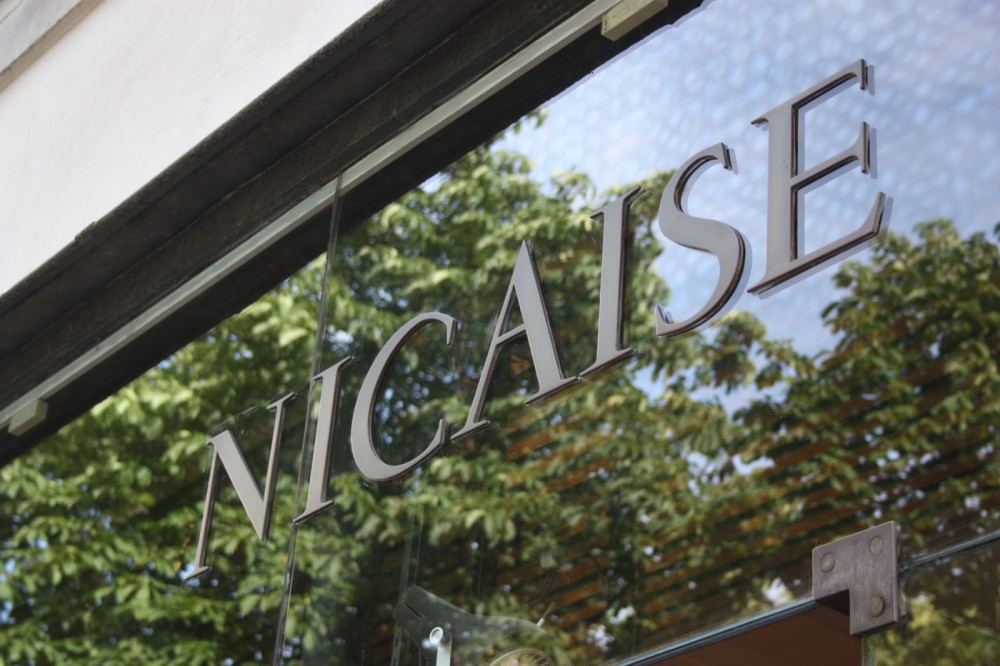 En 2015, Antoine Hyvernaud est appelé à la direction artistique de la galerie. Il est le fondateur et le directeur de la Galerie Grand'Rue de Poitiers depuis 2004. Art brut et expressionnisme sont les deux pierres angulaires de la ligne artistique, résolument figurative, de la Galerie Nicaise.
In 2015, Antoine Hyvernaud is called as artistic director of the gallery. He is the founder and director of the Galerie Grand'Rue in Poitiers since 2004. Outsider art and neo expressionism are the two cornerstones of the artistic line, resolutely figurative.
La vitrine La vitrine signée des architectes R. et A Deschanel installée dans les années 1960 est toujours conservée, avec pour la lumière des lampes et appliques de Serge Mouille. À l'époque, la boutique voisine accueillait la célèbre galerie de design Steph Simon (1902-1982) ouverte en 1956, un nom qui a dépassé l'homme pour devenir le symbole de la création d'après-guerre, réunissant Charlotte Perriand, Jean Prouvé, Serge Mouille, Georges Jouve, Isamu Noguchi pour ne citer que les plus célèbres.
The showcase

signed by

architects

R.

and A

Deschanel

setted up

in the 60's

is still

preserved

, with

lamps and

sconces

of Serge

Mouille

.

At the time,

the neighboring

shop

hosted the

famous

design gallery

Steph

Simon

(1902-1982)

opened in 1956

, a name that

exceeded

man

to become the

symbol of

the creation of

post-war,

gathering

Charlotte Perriand

,

Jean

Prouvé,

Serge Mouille

,

Georges

Jouve,

Isamu

Noguchi

to name only

the most famous.